THE ETHNIC CONNECTION CD
AN ECLECTIC COLLECTION
Balkan, Israeli, Yiddish, Klezmer, Waltzes, Polkas, Swing, Old Pop Songs,
Hillbilly, Boogie Woogie, Barbershop, and Ethnic connections!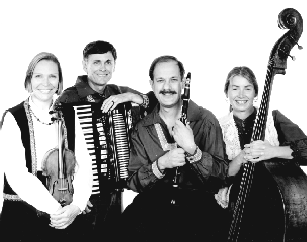 Carol Palms, David Owens, Ralph Katz, Nan Nelson



1. Friend for Life A wonderful song by Bill Danoff and Bryan Bowers, which we do in 4 part harmony and in 7/8 meter, like a

lesnoto

. What a great song to start with! "When you learn a song, you've got a friend for life."


2. Novo Mićino kolo

Serbian

u šest

(

kolo

) featuring violin, frulas, and accordion.


3. Čačak

Fast Serbian dance in 6/8 on accordion and violin.


4. Sarajevka

Tamburica

style Serbian dance with 4 part singing, and we actually slow down on the slow part!


5. Rokoko kolo

Rousing Croatian/Serbian song, also

tamburica

style and 4 part harmony singing. (Hup! Hup!)


6. Niška Banja

Serbian dance in 9/8, with various melodies and words, 2 and 4 part singing, and even a Mariachi section! This is really fun!


7. Trŭgnala Rumjana

A lovely Bulgarian song in 4 part harmony and 7/8 meter, with tambura.


8. Keykyreikos

Greek

syrto

on clarinet, from the song

Perdhika

("partridge"), and with an improvised solo.


9. Haro'a haktana min hagay

Singing version of the popular Israeli dance, with accordion and clarinet.


10. Heymisher sher & Tarras sirba

Two Dave Tarras

klezmer

tunes on clarinet, good for dancing the

hora

or

freylekhs

or

boiereasca

.


11. Dem milner's trern

Sad Yiddish song about the pogroms, with accordion, viola, cello, and bowed bass.


12. Belz

Nostalgic Yiddish song about the old home town, with accordion, clarinet, and bowed bass.


13. Vos toyg mir di polke-mazurke

Funny Yiddish song about a man's fruitless efforts to learn the new dances and attract the girl he loves.


14. A kind a goldene

Humorous Yiddish song about a child of three who has to deal with four languages (so far!), with clarinet, accordion, and mandolin.


15. Avreyml, der marvikher

Yiddish song about a young boy who becomes a proud and successful pick-pocket! Followed by a Dave Tarras sher.


16. Der shtiler bulgar

An old instrumental

klezmer

tune that became famous because of the following song.


17. And the Angels Sing

1939 popular song adapted from the above tune by Ziggy Elman for the Benny Goodman Orchestra, with words by Johnny Mercer. Clarinet, piano, and vocal a la Martha Tilton.


18. Škoda lásky & Beer Barrel Polka

Famous 1934 polka sung in Czech, followed by the American song it became during WW2, which is known all over the world (and which we have fun with).


19. Červená sukýnka & Blue Skirt Waltz

Beautiful Czech waltz, sung in Czech, followed by the American version, in 2 and 4 part harmony, with accordion, clarinet, and bass. This is really pretty.


20. Valurile Dunării

Romanian instrumental waltz from 1880, which later became "Anniversary Song".


21. Rosie the Riveter

Famous WW2 song about women in the workforce, a popular hit for The Four Vagabonds. We sing it a cappella, as they did, with some instrument imitating, but we also sing the intro and the 2nd verse. (Not related to the "We Can Do It!" poster!)


22. In the Mood

Possibly the most famous tune from the swing era, a big hit for Glenn Miller, who got it from Joe Garland and Edgar Hayes. Piano, clarinet, violin, guitar, also some of the strange words, in 4 part harmony.


23. NAMA Waltz Medley

An amusing collection of well-known waltzes that segue in unexpected places.

Aman

!


24. E. C. Polka Medley

Lots of polkas, without the strange segues, but with singing and some musical plays on words.
25. Automobile of Life Hillbilly (country) song recorded originally in 1938 by Roy Acuff and a "screaming tenor".


26. At the Hop

1957 rock 'n' roll hit by Danny and the Juniors. We do five part vocal and rousing boogie woogie piano.


27. Valse tzigane

Lovely French waltz by Maurice Ravel, which later became "Fascination", a 1957 hit for Jane Morgan.


28. Till We Meet Again

Lovely and sentimental British song from 1917, which we sing as a 4 part barbershop quartet. A great song to end with.

O m . . .



CD Length:

79:52

(What a deal!) Produced by David Owens (formerly with the NAMA Orchestra in Los Angeles).
Includes 20-page booklet with photos, historical info, and words and translations for all the foreign songs.

Listen to samples: (Use earphones if you can, to get the real stereo effect.)

Friend for Life


Novo Mićino kolo




Čačak


Rokoko kolo


Niška Banja




Trŭgnala Rumjana




Haro'a haktana min hagay


Heymisher sher
A kind a goldene
CS & BSW, track 19
RTR, track 21
NAMA Waltz Medley
E.C. Polka Medley
ATH, track 26
Till We Meet Again

If you downloaded some or all of this digitally, you may want the liner notes that come with the CD.
.
If so, you can view or save the liner notes here: Ethnic Connection Book

I also still have some of the NAMA Orchestra's CD, NAMA 5, which has a lot of folk dances on it..

Click on or Google: Best of NAMA CD


CDs are $15 if purchased from me in person. To order by mail, add $3 per order. (e.g. 1 for $18, 3 for $48.) Except: If you buy at least one Ethnic Connection CD and one NAMA 5 CD, I will pay the shipping cost, no matter how many additional CDs you order. (E.g. 3 EC + 1 N5 = $60.)

Send check to:

David H. Owens, 2608 Traver Blvd., Ann Arbor, MI 48105



(734) 662-5253 (October – June) or (906) 289-4404 (June – October)
DOwens[at]Pasty[dot]com http://www.pasty.net/~dowens/ 4/7/11

Return to main page.