"Best of NAMA" CD
Balkan, Klezmer, and American songs and dance music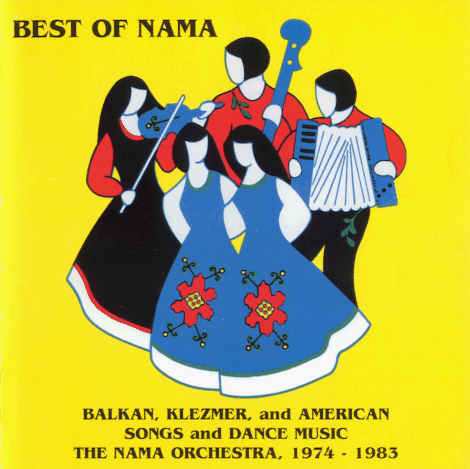 The NAMA Orchestra, an offshoot from the Aman Folk Ensemble, was from 1974 to 1986 probably the country's best known Balkan folk dance band, and part of the klezmer revival of the 1970's. Here are their "greatest hits" -- Serbian, Macedonian, Bulgarian, Greek, Israeli, Yiddish, klezmer, American, and Latin -- by a remarkable group of musicians.
Folk dancers and groups take note, you should have this in your collection. It has about 45 minutes of dance music, plus some other nice things you may not have heard. In response to comments that some of our recordings were too fast for a lot of dancers, I have digitally slowed down a few of them. (Without changing the pitch! Isn't science wonderful?!) Following is info on the songs:
BEST OF NAMA (NAMA 5 CD)
1. NAMA Lesnoto Medley (Macedonian) -- Our most successful recording, used by folk dance groups all over. Four lovely Macedonian songs in 7/8: Oj ti pile, Žalna majka, Bitola moj roden kraj, and Makedonsko devojče. Sung by Trudy Israel and Susan North, with violins (Miamon Miller & Loretta Kelley), flute (Neil Siegel), accordion (David Owens), guitar (Chris Yeseta), and bass (Andy King).
2. Koga srce boli (Serbian, U šest) -- Vocal, with two frulas (pennywhistles) played by Mark Levy & Neil.
3. Siko horepse, kukli mu (Greek/Turkish, Syrto) -- Vocal, with clarinet solo by Stewart Mennin.
4. Gergebunarsko horo (Bulgarian, Pravo horo) -- Played on Bulgarian village (bitov) instruments, gajda (Mark), kaval (Neil), gŭdulka (Miamon), tambura (Chris), tŭpan (Phil Harland). Starts slower, speeds up.
5. Eleno mome (Bulgarian) -- Vocal, with clarinet and accordion. Played in 7/8 and 13/16.
6. Kukunješće (Serbian) -- Tamburica orchestra, lead vocal & prim by Chris Yeseta. Starts slower, speeds up.
7. Bučimiš (Bulgarian) -- Thracian dance tune in 15/16, on clarinet, accordion, violin. Starts slower, speeds up.
8. Čarlama (Serbian) - Lively dance tune with many variations on frulas, violins, and accordion.
9. Jove, malaj mome (Bulgarian) -- Striking melody-and-drone vocal, with gajda & kaval solos.
10. Rŭka (Bulgarian) -- Accordion solo with violins. Fits the choreography of Dobrudjanska reka.
11. Snošti sakav da ti dojdam (Macedonian, Bavno oro / Lesnoto) -- Seldom heard vocal version.
12. Salty Dog Rag (American, Round dance / Schottische) -- Swingy version with nostalgic 3-part harmony, fiddle, guitar, and tack piano solos. Not as fast as on NAMA 2.
13. Hana'ava babanot (Israeli) -- Beautiful Hebrew love song by Pearl Rottenberg, with guitar and violin.
14. Erev ba (Israeli) -- Popular dance tune, sung in 3-part counterpoint.
15. Di mizinke oysgegebn (Yiddish / Klezmer) -- Wedding celebration song by Pearl, with clarinet and violin.
16. Doină (Romanian / Klezmer) -- Soulful clarinet improvisation & freylekhs by Isaac Sadigursky, with Stu Brotman on cymbalom & bass.
17. NAMA Freylekhs Medley (Klezmer) -- Happy old-world dance tunes on accordion and violin.
18. Moyshele, mayn fraynd (Yiddish) -- Nostalgic song about childhood, trumpet solo by Dan Sheehy.
19. A heymisher bulgar (Yiddish / Klezmer) -- Upbeat theater song, trumpet & clarinet solos, Phil on drums.
20. Dana dana dana & Dona Dona (Yiddish & American) -- Obscure Yiddish theater song that became a famous American 'folk song'. Yiddish sung by Sue Komoorian, English & guitar by Barbara Slade (a la Joan Baez). This is the original Yiddish version, which I have never seen or heard anywhere else. [Yiddish 1940 Aaron Zeitlin, Sholom Secunda; English 1956 Teddi Schwartz, Arthur Kevess] It was Schwartz who accidentally changed the vowel from "ah" to "oh"; she spelled it "dona" so it would be pronounced like our name "Don" (or "Dawn"), rather than "Dan". (Didn't work!)
21. Der nayer sher & Wedding Samba (Yiddish & American/Latin) -- Yiddish theater song that became a 'Mexican' samba! Sung in Yiddish and English, with Brazilian percussion by Eytan ben Sheviya. [Yiddish 1940 Abraham Ellstein; English 1948 Ellstein, Allan Small, Joseph Liebowitz]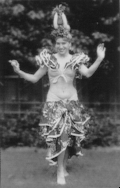 22. Tico-tico no fubá (Brazilian & American, Samba) -- Wonderful Carmen Miranda style rendition in Carioca Portuguese by Barbara Slade (right), plus the patter-song English version. Bando da lua guitar solo by Dan Ratkovich, percussion by Eytan. [Music 1917 Zequinha Abreu; Portuguese 1939 Aloysio Oliveira; English 1943 Ervin Drake]

23. Home in Pasadena (American) -- Delightful old-time melody and counterpoint, trombone and bass by Stu Brotman, violin by Agi Ban, David on piano. This is the official song of Pasadena CA (not widely known!). [1923 Harry Warren, Grant Clarke, Edgar Leslie]

24. Orange Blossom Special (American) -- A Rousing finish! (With the famous Ervin Rouse exhibition tune.) Three-part vocal, piano, and Loretta Kelley on the flying fast fiddle! [1938 Ervin Rouse]

Most of these are from our four LPs, NAMA 1-4, released 1974-82. Some (mostly dance tunes) have been digitally edited to be slower and/or shorter (as the folk dance population gets older!). This is old style folk and klezmer music, played on acoustic instruments, with no rock fusion or whatever. Extensive notes, photos, words & translations. CD length is nearly 74 minutes. Not a CD-R.

Listen to sound clips:

NAMA Lesnoto Medley
Koga srce boli
Eleno mome
Kukunješće
Bučimiš
Jove malaj mome
Bavno oro
SDR, track 12
EB, track 14
Di mizinke oysgegebn
DDD&DD, track 20
TTNF, track 22
OBS, track 24

I also have a similarly wonderful CD made by my band of the last 20 years in Ann Arbor.

Click on or Google: Ethnic Connection CD

CDs are $15 if purchased from me in person. To order by mail, add $3 per order. (e.g. 1 for $18, 3 for $48.) Except: If you buy at least one Ethnic Connection CD and one NAMA 5 CD, I will pay the shipping cost, no matter how many additional CDs you order. (E.g. 3 EC + 1 N5 = $60.)

Send check to:

David H. Owens, 2608 Traver Blvd., Ann Arbor, MI 48105

This CD came with extensive liner notes -- words, translations, history, photos. If you have a digital download of some or all of it, you can view and/or save the liner notes here: NAMA Book

One of our LPs, NAMA 2, is also still available. Mostly Balkan folk dances, with dance syllabus by Dick Crum. These are $5 each, but unfortunately I am unable to get mailers for LPs, so cannot ship these.

Questions, comments: (734) 662-5253 (October - June) or (906) 289-4404 (June-October)

4/7/2011