The Ethnic Connection
Balkan and Klezmer
Songs and Dance Music from Eastern Europe
in Ann Arbor, Michigan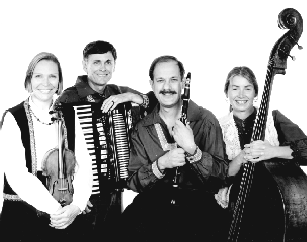 The Ethnic Connection is one of the leading Balkan folk dance bands in the midwest. We regularly play for folk dance parties in Ann Arbor (see Events Page), emphasizing Bulgarian, Serbian, Macedonian, Greek, and Israeli. And we play klezmer music and Yiddish songs.
We also play songs and ballroom dance music from the 1930's and 40's -- foxtrots, swing, tangos, etc. And we have played for contra dances.
We have a wonderful and unusual CD out now. Take a look. Ethnic Connection CD.
The Ethnic Connection is an acoustic band, founded in 1988, consisting of four talented and versatile musicians:
David Owens -- accordion, piano, vocals. Previously directed the NAMA Orchestra in California. One of their LPs (NAMA 2, Balkan folk dances), is still available. And there is still a Best of NAMA CD available!
Nan Nelson -- mandolin, guitar, dumbek, tambura, tupan, bass, vocals. Nan also plays with Veselba (a traditional Bulgarian band), and has had a small Russian ensemble, the Firebird Balalaika Orchestra, in Ann Arbor.
Ralph Katz -- clarinet, frula, vocals. Ralph's web page.
Carol Palms -- bass, violin, vocals. Carol and her husband Mark also run The Raisin Pickers, an old-timey / swing band based in Manchester, Michigan.
David H. Owens: DOwens (at) Pasty (dot) com (Use @ and .)