Be sure to also see the note about Pasty HotSpots, in operation since 2004.

In co-operation with several historic high points around the Keweenaw Peninsula, Pasty.NET now has *wireless DSL Internet connections available. To use the service, you need a special transceiver which plugs into your USB port, or the optional ethernet adapter. It is a 'near-line-of-sight' transport medium. This means you must have a relatively unobstructed view of the access point near you.

Current access points include Quincy Mine in Hancock, St. Annes Church (Keweenaw Heritage Center) in Calumet, and the Eagle River Courthouse (Sheriff's tower). If you can see one of these structures from your home or business, chances are the service will work for you. The receivers are available for purchase or rent. Bandwidth pricing is structured on an incremental basis, with download speeds ranging from 512k to 4 mbit. (Upload speed is generally one half the download rating).

Installation of the transceiver is a simple process of mounting the unit to a high point on your home or office building, and routing the attached cable to your computer or network interface. Activate the driver, enter your username and password, and your full-time wireless connection is established.

Bandwidth may be selected as desired at the following prices, in addition to the transceiver purchase:


PLEASE NOTE: Pasty.NET n support Netflix,
Hulu, Sky Angel, or similar IPTV services at the present time.
| | | |
| --- | --- | --- |
| - - Speed - - | - - Price - - | - - - Bandwidth - - - |
| 512k | $39 | up to 20 GB/mo |
| 1 mbit | $49 | unlimited |
| 2 mbit | $59 | unlimited |
| 2 mbit | $79 | commercial (shared) use** |
** Commercial tier 4 mbit available as 2 x 2 mbit

Annual pre-pay = 11 x monthly



The transceiver unit is typically mounted outside, with the electronics built into the antenna itself. Prices of the unit is $150 plus sales tax, with an extra charge for high gain options or in-house router. In addition, fixed I.P. addresses and email domain names are available.

For more information, or to schedule installation, phone 337-5979. The current lead time needed for installation is about 2 weeks, in areas where the signal is readily available.

Reprint from June 11, 2004 Daily Mining Gazette: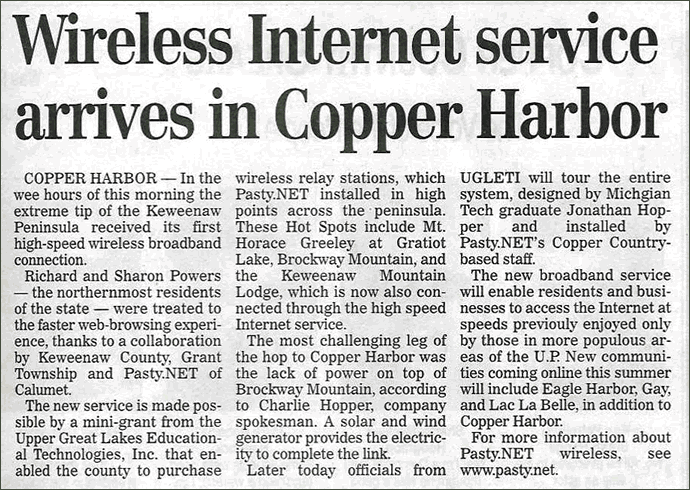 *Wireless DSL = Direct Stationary Link. PastyNET high-speed Internet service is not a Digital Subscriber line, but a combination of 802.11b and a proprietary method of broadband delivery by means of low-power microwave transceivers. It is not a mobile service, but intended for reception at a fixed point (homes, offices, etc.)



Return to PastyNET home page.